Renusol America, a provider of solar PV mounting solutions, has announced its support of a student team from Stevens Institute of Technology in its competition in the Department of Energy's Solar Decathlon 2015. Renusol America donated 60 of its Renusol CS60 one-piece, ballasted PV mounting systems for flat roof applications, along with hardware, and assisted the team in the design and engineering of the solar array.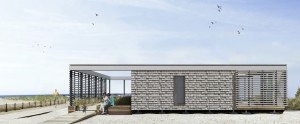 Stevens Institute of Technology has fielded one of the fourteen college teams from across the country that are competing in the design and build of cost-efficient and energy efficient solar homes. Inspired by Hurricane Sandy's devastating impact on the New Jersey shoreline, the Stevens Institute of Technology team's entry, the SURE HOUSE, represents the team's vision of a sustainable and resilient home for the areas at greatest risk due to rising sea levels and more damaging storms.
Read the full article here…
From storm-resistant shelters to breezy dwellings that open like a flower, the solar-powered houses in the U.S. Department of Energy's Solar Decathlon 2015 are as diverse and creative as the teams behind them. Each was inspired by the unique cultures, experiences and landscapes of its creators, who represent more than 20 colleges and universities around the world.
All their hard work and ingenuity will be on display this October 8-18 at the 2015 Solar Decathlon's grand finale in Irvine, California. The 14 collegiate teams will put their final designs to the test in 10 contests (hence the name "decathlon"), with top honors going to the house that best blends affordability, consumer appeal and design excellence with energy efficiency and sustainability.
THE SURE HOUSE is headed west. Students at Stevens Institute have packed up and are shipping their sustainable and resilient solar-powered coastal house to Irvine, California, for the U.S. Department of Energy's biennial solar decathlon. At an open house prior to shipping out, students showcased their innovative architecture, engineering, and design. The house features a number of vinyl elements, including a vinyl reflective roof, and vinyl decking, cladding, and windows.
Read the full article here…
Hoboken suffered some of the worst impacts of 2012's Hurricane Sandy, but students and faculty at the nearby Stevens Institute of Technology have long been determined to turn the disaster into a learning experience.
When the storm hit, more than 300 students organized the effort to assist the city by coordinating and supervising more than 5,000 volunteers who reported to City Hall to deliver water and supplies, rescue stranded citizens, and cook meals for city shelters. Since then, a new, interdisciplinary disaster studies class, "Sandy Studies," has been developed to expose students to the real-world intersection of science and society and the pursuit of effective, responsible and inclusive innovation.
Read the full story here…
One of the entries into this year's US Department of Energy Solar Decathlon is the so-called Sure House, which is powered by solar energy and also built to withstand harsh coastal weather conditions. It was designed by the students of the Stevens Institute of Technology in association with the PSEG Foundation. The aim was to create a solar powered, energy-efficient, cost-effective and also hurricane-proof home. The name of it is a merging of the words SUstainable and REsilient.
Read the full story here…
A team from Stevens Institute of Technology in New Jersey, United States is celebrating the completed construction of the solar powered Sure House; which has been built for robustness as well as maximum energy efficiency.
Sure House (SUstainable and REsilient) is fully solar powered and uses 90% less energy than the average home. Additionally, in the aftermath of a storm or other scenario that causes mains power to be cut in an area, it can become a hub for emergency power in a neighborhood.
Read the full story here…
Even among ongoing construction in Hoboken, the little house on Frank Sinatra Drive stands out like a sore thumb.
For one thing, the structure sits in an empty lot at the tip of Castle Point, its only neighbors a low office building and the mighty Hudson River. Then there's the layout—single story, raised on pilings, vinyl siding…and are those deck chairs?
At a ribbon-cutting ceremony this past Wednesday, the open secret of the Hoboken's newest and most unique single-family home was finally revealed.
Read the full article here…
When Stevens Institute of Technology students entered a national sustainable-house contest, they decided it wasn't enough to make their house energy-efficient. With memories of Superstorm Sandy still fresh in Stevens' hard-hit hometown of Hoboken, they decided their house should also be able to stand up to hurricanes.
"We thought it was important to address a real regional problem, and of course Sandy had hit in 2012," said John Nastasi, an architecture professor at Stevens and lead faculty member on the project. "We were all devastated by Sandy. It tore through Hoboken."
The result of Stevens' effort is the SURE house — SU for sustainable and RE for resilient — currently sitting on a parking lot overlooking the Hudson River in Hoboken. It will be Stevens' third entry into the Solar Decathlon in October, a biennial competition sponsored by the U.S. Department of Energy that challenges college teams to build solar-powered houses.
Read the full article here…
475 High Performance Building Supply is a proud supporter and supplier of the Stevens Institute of Technology 2015 D.O.E. Solar Decathlon team. Their entry into the competition is SURE HOUSE. Short for SUstainable + REsilient, this project has been designed to survive the next Superstorm Sandy while allowing occupants to live a 100% solar powered existence in a nearly foam-free building.
The SURE HOUSE project uses many details from our most recent ebook publication: High Performance 2x Framing. It relies on INTELLO as an airtight smart vapor retarder, taped tight with TESCON VANA on membranes and sheathing, uses ROFLEX gaskets and TESCON PROFIL to seal penetrations, and eliminated thermal bridging using CompaCFoam insulation.
Read full article here…
Glossary
Flood-Resistant
Flood resistant construction for the SURE HOUSE means successfully keeping floods outside the home thanks to the... Learn More