In this year's Solar Decathlon, the seventh iteration of the biennial competition started by the U.S. Department of Energy in 2002, teams addressed issues of extreme weather with responsive homes that can withstand tornadoes, floods, and drought conditions through their respective designs.
Read the full article here…
Renusol America, a provider of solar PV mounting solutions, has announced its support of a student team from Stevens Institute of Technology in its competition in the Department of Energy's Solar Decathlon 2015. Renusol America donated 60 of its Renusol CS60 one-piece, ballasted PV mounting systems for flat roof applications, along with hardware, and assisted the team in the design and engineering of the solar array.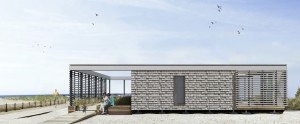 Stevens Institute of Technology has fielded one of the fourteen college teams from across the country that are competing in the design and build of cost-efficient and energy efficient solar homes. Inspired by Hurricane Sandy's devastating impact on the New Jersey shoreline, the Stevens Institute of Technology team's entry, the SURE HOUSE, represents the team's vision of a sustainable and resilient home for the areas at greatest risk due to rising sea levels and more damaging storms.
Read the full article here…
In the shadows of Manhattan, Stevens Institute of Technology students in red hats size up, saw and sand their way to building their sustainable and resilient or SURE HOUSE.
"It's being built mostly out of everyday building materials," said Construction Manager Chris Hamm.
It's for the U.S. Department of Energy's Solar Decathlon 2015 for universities. Twenty teams tasked with building solar-powered houses that are affordable, attractive, easy to live in and energy efficient.
Read the full article here…
When talking about climate change and the need to reduce emissions, living sustainably is key. So what do we mean by sustainably? While there are probably thousands of ways to define this word, the most relevant definition today is "without relying on the use of fossil fuels or other limited natural resources." So how is the SURE HOUSE sustainable? We will use up to 90% less energy than a typical New Jersey home by adhering to the most stringent building energy standard in the world, the Passive House Standard. This low energy demand combined with our solar array will also make us a Net Zero energy user year round. Now that's sustainable.
When most people think of a building with low-energy use they often think of the efficient technologies used such as LED lights, low-energy refrigerators or efficient dishwashers. While these things are an important part of the equation, there is no question that in climates with big temperature swings between seasons, such as the Northeast United States, the energy needed to heat and cool a building will always be its greatest single energy demand. Therefore reducing the need to heat and cool a home is the best way to cut down your overall energy consumption, and the best way to do this is to create a building that virtually eliminates the exchange of heat with the exterior climate and holds on to the energy used to condition the interior air. This is the idea behind Passive House and explains why one of the most important parts of this house is its insulation, the material that increases the thermal resistance, or R-Value of a wall, roof, or floor assembly.
In order to reach the Passive House Standard, an energy model of a building must be validated which calculates the yearly heating and cooling energy consumption based on local climate data and all of the specifics of the home. A very important part of this model is the thermal resistance or R-Value of the building envelope, the shell of the building that is in contact with both interior air on one side and exterior air on the other. These values are split up by surfaces, walls, roof, floor, windows and doors and your energy model helps you determine what values you need to hit to meet the Passive House Standard, often 1.5 to 2 times what is required by code. For the SURE HOUSE, we have designed our house to have an R-50 roof, R-37 walls, and R-30 floors. In New Jersey, code requires an R-39 Roof, R-19 walls and R-13 floors. These numbers were chosen because of the results from our energy model compared to the cost to insulate more. While insulating is cheap, there are diminishing returns the more you insulate. Therefore, going from an R-0 wall to an R-50 wall will have a much greater effect on your heating energy consumption than going from an R-50 wall to and R-100 wall.
We are excited to have started building the SURE HOUSE in a parking lot on the campus of Stevens Institute of Technology in Hoboken New Jersey. "SURE Construction" is a subset of our PopSci blog that we'll use to chronicle our construction process. Check back often if you want to follow our progress and get a first hand view of how a sustainable and resilient house takes shape.
Hurricane Sandy was personal for students at Stevens Institute of Technology in Hoboken.
They witnessed the humanitarian crisis that unfolded after the Hudson River spilled into the Mile Square City: portions of the city were underwater, some residents were trapped for days, and the National Guard patrolled the streets.
Further south along the Jersey Shore, the damage was catastrophic.
In the storm's wake, the university — known for its science and engineering prowess — recognized the critical need to develop sustainable housing solutions and is now taking a leading role in designing a more storm-resilient future.
Read the full article here…
Check out the exhibition our students put on for Stevens and SURE HOUSE supporters.
We've built several models as well as full scale mockups to test out features, including our storm shutters. After Spring Break we are excited to begin construction down on the Hudson River at Stevens Institute.
If you're interested in supporting our student team at SURE HOUSE visit:
https://surehouse.org/supporters/
Also, follow us on Instagram and Facebook for more SURE HOUSE content!
Light based technologies have the potential to transform the 21st Century as electronics did in the 20th Century. Inspired by the crucial role light plays in modern life, the United Nations has proclaimed 2015 as the International Year of Light and Light-based Technologies. The goal of this global initiative is to raise awareness and improve the public understanding of how light provides solutions to worldwide challenges in energy, education, agriculture, communications and health.
The IEEE Photonics Society is excited to be a founding partner of the International Year of Light 2015 initiative and will support coordinated activities on national, regional and international levels to demonstrate how photonic technologies improve the quality of life for all around the world. 2015 is also of particular historical significance for the society since it commemorates the 50th Anniversary of the creation of the Quantum Electronics Council, which would eventually become the IEEE Photonics Society.
In honor of how light contributes to sustainable development, a cross-cutting theme of the UN's proclamation, the IEEE Photonics Society is proudly sponsoring Stevens Institute of Technology's design in the U.S. Department of Energy's Solar Decathlon to help increase the demand for intelligent, sustainable environments, like Smart Living Spaces. As you know, Stevens' entry, the SURE HOUSE, is based on the need the students saw for sustainable and resilient coastal houses in the aftermath of Hurricane Sandy, which struck New York and New Jersey in 2012. The students' design incorporates "superinsulation," uses 90 percent less energy than a conventional home and can withstand hurricane-force winds.

Hurricane Sandy swept the East Coast of the US in late Oct. 2012. The storm left dozens dead, thousands homeless and millions without power.
Steven's Solar Decathlon project hits home for the IEEE as Hurricane Sandy knocked out power and left the IEEE Operations Center, in Piscataway, N.J., in the dark and closed for a record nine days. Dozens of employees were without power and heat for several weeks. Some even lost their homes. IEEE Executive Director & COO, James Prendergast, stated well that Hurricane Sandy "taught us a lot about teamwork and helping each other." Since then, IEEE has been further dedicated to supporting renewable energy resources and strengthening the power grid. The IEEE Photonics Society strongly supports the Steven's idea that renewable energy will one day offer residents and consumers affordable relief from widespread blackouts that have become a predictable by-product of major storms.
"Light and optical technologies play fundamental and significant roles in our daily lives, and their applications can help solve some of society's most pressing problems," says IEEE Fellow Dalma Novak, President of the IEEE Photonics Society.

Photonics is the science and technology of generating, controlling, and detecting photons, or particles of light. Photonic applications use the photon in the same way that electronic applications use the electron.
Another major theme of the International Year of Light 2015 is the fact that light contributes to an array of technological advances, similar to renewable energy and solar power. Light pulses and advanced optical fiber cables form the backbone of the global internet. Satellite telephones and wireless technologies allow even the most remote areas of the world to have access to communications, information and even advanced medical care. The spectrum of light from X-rays to infrared lasers provides technologies that underpin our lives, and the interaction of light with the human body provides valuable techniques for diagnosis, imaging and treatment in medicine.
As the advocates representing IEEE Photonics Society around the world, the society's volunteers and chapters will play a key role educating the world about light's capabilities. The IYL 2015 educational and community outreach activities devised by the society are centered on encouraging young minds to pursue careers in photonics and addressing issues of gender balance in STEM.

Light is a fascinating and familiar topic for young kids. The IEEE Photonics Society is dedicated to introducing young minds to the light sciences and providing programs to sustain their interests.
Throughout 2015, volunteers will introduce pre-university students to the light sciences by organizing Summer Schools and Young Scientist Workshops. Graduate student members will act as Student Outreach Ambassadors and present photonics and optics related curriculum to inclusive junior-high classrooms (ages 8–12) and young women groups. The Women in Photonics program will hold various events, such as career workshops, networking receptions and an "Introduce a Girl to Photonics Day", and IEEE Photonics Society chapters will participate in an IYL 2015 Chapter Challenge grant competition to raise awareness at a local level.

The IEEE Photonics Society is working with SolarAid, a charity working to replace costly, dangerous kerosene lamps in Africa with energy-efficient solar lights.
To promote the importance of critical lighting resources in relation to sustainable global development, the IEEE Photonics Society has also teamed up with SolarAid, a not-for-profit organization using enterprise rather than aid to ensure access to safe, clean solar lights in Africa and developing nations. The organization's goal is to eradicate the kerosene lamp by 2020. Together the IEEE Photonics Society and SolarAid have developed a brand new social way of giving, called the Speed of Light, which connects light donors with friends through an online community. For only a couple of minutes of your time and a few dollars, you can help the IEEE Photonics Community spread light throughout Africa.
"We in the IEEE Photonics Society are excited and proud to be a part of the International Year of Light," says IEEE Photonics Society Executive Director, Christopher Jannuzzi. "Not only does it present a chance for us to partner with our sister societies around the globe to showcase the critical role the light sciences play in nearly every aspect of modern life, it's also an opportunity for IEEE Photonics, and it's thousands of members, to highlight our society's contributions to the field."
The IEEE Photonics Society invites you to join in supporting this global initiative to help spread the word about why light matters.
For individuals interested in volunteering or collaborating, please email [email protected].
For information on IYL 2015, visit www.light2015.org and www.light2015blog.org.
For many people living in the Northeast, the concept of a net-zero, solar-powered home that can stand up to some of Mother Nature's toughest weather conditions may seem far-fetched and impractical. At least that was the mindset before Hurricane Sandy barreled into the east coast, leaving in its wake a trail of devastation along the eastern seaboard that was unprecedented. Among the cities devastated by the storm was Hoboken, New Jersey – home to Stevens Institute of Technology.
Following a series of destructive storms over the past several years, Sandy was a tipping point for coastal communities. A sustainable, resilient house that could withstand hurricane-force conditions was no longer a luxury, but essential for the long-term existence of these communities.
So when Stevens was selected to compete in its third consecutive Solar Decathlon competition, an interdisciplinary team of Stevens students saw an opportunity to create a new paradigm for coastal housing.
Read the full article here…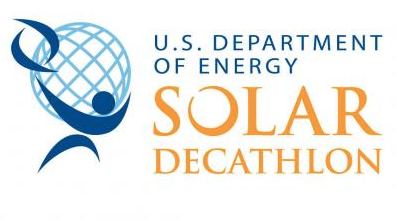 On October 29, 2012, the entire eastern seaboard of the United States felt the impact of Hurricane Sandy, but none more so than the New Jersey coastline, which took a direct a hit from the superstorm. Hurricane Sandy served as a wake-up call for the public, government leaders and policy makers about the devastating consequences of failing to prepare for the challenges of climate change.
For Stevens Institute of Technology, which has called Hoboken home since 1870, Sandy was personal. The city of Hoboken was paralyzed in the days and weeks following the storm, creating a state of emergency that was unprecedented. But at Stevens, Sandy served as a driving force in bringing together our best minds in pursuit of innovative solutions for a sustainable future.
Since Sandy, Stevens' faculty and researchers have been working on dozens of projects to help predict and mitigate storm damage, but one major opportunity presented itself when Stevens was selected to compete in its third consecutive Solar Decathlon, a biannual competition hosted by the U.S. Department of Energy to design, build and operate the most energy-efficient solar home within budgetary and building limits.
Read the full article here…
Glossary
Climate Change
As we use up the world's fossil fuels to power our cars, homes and businesses we are also filling up the earth's... Learn More